English Title: Tori no Hoshi: Aerial Planet
Japanese Title: トリノホシ ~Aerial Planet~
Publisher: Nippon Ichi Software
Developer: NK-System
Genre: Flight Sim
Released: Feb. 28, 2008
Product Codes: SLPS-25812 / JAN 4995506001339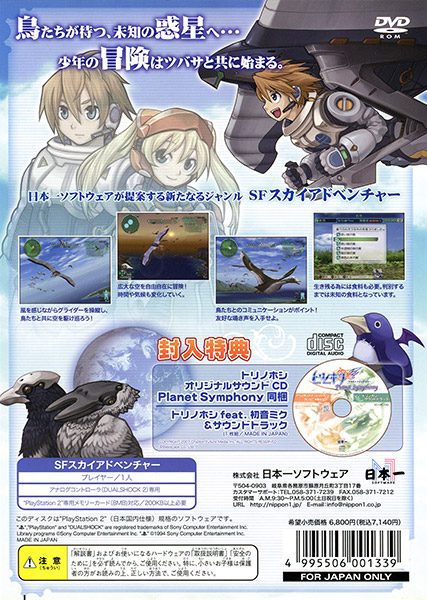 ---
A so-called "sci-fi sky adventure", this game has you playing a kid stranded on a strange planet inhabited by hundreds of different kinds of birds. Armed with nothing but a solar-powered glider, you have to gain their trust and find a way to survive until you can find your father's research base somewhere on the other side of the planet. Think Pilotwings with a simulation element, an anime style, and a sci-fi bent, and you're just about there.

Haven't had much time to dig into this one, but it seems like a relaxing lazy day sort of game. It's also quite pretty for the aging PS2, being such a late release. Being from Nippon Ichi, you can unsurprisingly find Prinnies around if you look hard enough. ;)

Includes a music disc featuring four Vocaloid image tracks by the folks at Basiscape, along with the original soundtrack by Atsushi Migaki. It's all very pleasant and laid-back electonic ambience.